水通道蛋白研究中被查名的《日田天领水》的力量・・・
「日田天领水」的高品质是通过引进了清洁的最新设备的本公司工厂得到保证。
2008年7月起,「日田天领水」工厂引进了通过HACCP系统开展卫生管理的,厚生劳动省的认证制度「综合卫生管理制造流程」。而且,为了进一步加强安全措施,于2011年4月最新取得了「ISO22000:2005」认证。
通过从汲水到瓶装过程中阻隔一切外气,从而打造了不受外部条件影响的环境。再加上,通过实施机器检验、目视确认以及感官检验以确定口感、香味等方式,保证提供《不变的口味》。
在矿泉水的生产过程中确保产品安全和卫生管理,依托严格的生产体制,致力于提供更加安全的产品。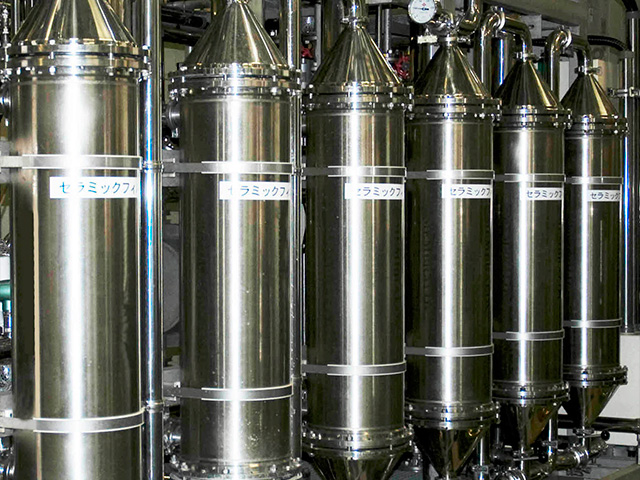 From a safe factory, we deliver peace of mind.
The high quality of Hita Tenryou Sui is supported by our factory, which boasts the latest sanitary equipment.
The Hita Tenryou Sui factory introduced the "comprehensive hygiene management manufacturing process" certification system of the Ministry of Health, Labor, and Welfare, incorporating hygiene control by the HACCP system from July 2008. In order to further strengthen our safety efforts, we have newly obtained the "ISO 22000: 2005" certification in April 2011.
Here, by not allowing the outside air to touch the water at all from sampling to bottling, we have maintained an environment that does not allow the outer conditions to influence the water. In addition, we are working to ensure the "taste we are familiar with" through inspection by machine, checking by visual inspection, and a sensory test to ascertain taste, scent, and so on.
This way, we are striving to provide products that are more reliable under the strict system of ensuring the safety of products in the production of mineral water and sanitation management.
術語解釋
何谓HACCP?
号称"Hazard Analysis Critical Control Point" (危害分析(HA)/关键控制点(CCP))的卫生管理手法。不是通过检验最终产品来保证其安全性,而是通过连续管理重要的生产工序来保证产品安全性的卫生管理手法。
何谓ISO22000:2005?
旨在建立食品安全的具有管理制度要素的国际标准。食物链(食品从原料厂家到提供给消费者中涉及到的所有厂家)作为适用范围。
What is HACCP?
"Hazard Analysis and Critical Control Point" is a method of hygiene management. Rather than trying to guarantee safety by inspecting the final product, by continuously managing important processes in manufacturing, hygiene management method ensures product safety.
What is ISO22000:2005?
It is an international standard with elements of a management system for building food safety. Its scope of application is the food chain (all suppliers involved in food supply from the raw material producer to the consumer).
「未检出」放射性物质
为了检测放射性物质,除了定期检测水质以外,还持续检验放射性物质(放射性碘131、放射性铯134、放射性铯137)的量,结果无一例外全部为「未检出」。
Radioactive material "not detected"
In addition to the water quality test regularly conducted to support the above, we have continued to examine the amount of radioactive material (radioactive iodine 131, radioactive cesium 134, radioactive cesium 137), and all results came back "undetected."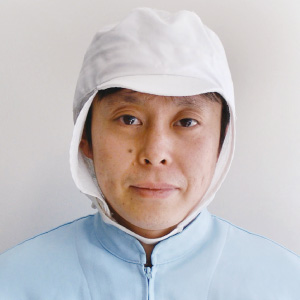 本公司的每一名员工努力积累的卫生管理经验,强化了工厂整体的水平,确保了高度的卫生管理状态。在这永无止境的领域,今后倾听顾客的各种意见,持续向顾客提供永恒不变的品质。塑料瓶生产线和检验情景。
At this company, the accumulation of each employee's efforts in hygiene management has contributed to the improvement of the entire factory and is maintaining an advanced hygiene management status. Since it is an endless field, we will continue to strive to deliver quality that does not change to customers as we learn more information in the future.
PET bottle production line and inspection state. Quality Assurance Division: Mr. Toshikatsu Goto: Working for 12 years and 11 months.